We invite you to a guided Panorama ride through the historical center of Bratislava!
The sightseeing tour begins at the Twin City Gate, Razusovo nabrezie. At first we ride along the Danube promenade, then we pass the St. Martin´s Cathedral, the former Coronation Church of kings and queens of Hungary. We continue along the medieval city walls and pass the Grassalkovich Palace – now Presidential Palace, the "upside-down pyramid" building and the Archbishops summerpalace – now seat of the Government. Along the Freedom Square with linden flower we come to the Fountain of Peace. After that we continue to the Bratislava castle with a marvelous panoramic view of the city and its surrounding with a detailed explanation from your guide. Afterwards it is possible to have a closer look at the Castle and its courtyards and then we go back to the Down Town through unknown from the tourists not yet discovered Castle stairs.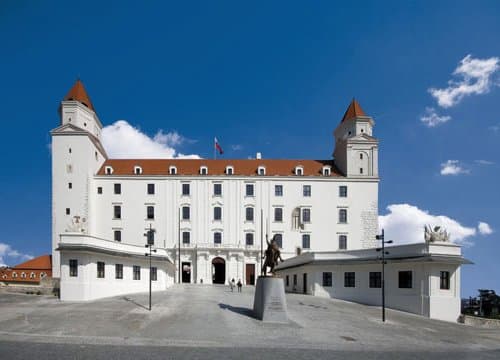 | | |
| --- | --- |
| Season | March 22nd - December 22nd 2024 |
| Departure | 10:00, 10:30, 12:00, 14:00. Further journeys on request. |
| Duration | 1 hour |
| Languages | English and German. Further languages on request. |
| The tour includes | Sightseeing ride and photo stop on Bratislava Castle. |
TIP
Extend your sightseeing tour by walking through the historic center of Bratislava with our guide, which will introduce you to the attractions of this city.
TIP
The tours are possible to combine with wide spectrum of activities, events or other services. Upon request we can arrange you restaurant services, tasting of local specialities, accomodation services, lease of spaces, visit of theatre, dance and musical events, city festivals, other entertainmnent activities and a lot more!
TIP
Hear out how Bratislava sounds at one of the private concerts in one of its palaces or churches! Upon request it is possible to extend a tour by a folk, entertaining (film or musical) or classical music events. Ideal for groups!
TIP
Do you dream of a walk tour under the night heaven? Undertake with us a Wander in night Pressburg!
TIP
Let allure yourself for an unique taste of slovak beer and combine your tour with a beer tasting! The tasting of superb craft beer in a local brewery with long-time tradition, in which each beer gourmet finds, what he likes. We also think of wine lovers, for whom we have prepared a Slovak wine tasting right in the heart of Bratislava's historic center. Enjoy wine tasting with an experienced sommelier who will show you the best wines produced in Slovakia.
Legend:
A: Twin City Gate (start)
B: Slovak Philharmonic Building
C: Historical Building of Slovak National Theatre
D: SNP Square
E: Old Market Hall
F: Church and Monastery of the Brothers Hospitallers
G: Holy Trinity Church
H: Presidential (Grassalkovich) Palace
I: Bratislava Castle
J: Twin City Gate (finish)
Are you interested in this trip? Confirm your tour reservation with the form below. Payment online is available.